Russia Thwarts Another Ground Force Attack Of 'Saboteurs' From Ukraine
Keep up to Date & Bypass the Big Tech Censorship
Get uncensored news and updates, subscribe to our daily FREE newsletter!
Russia's Federal Security Service (FSB) on Wednesday has said it thwarted another cross-border sabotage raid akin to the major incursion by ground forces from Ukraine which occurred in May of this year in Belgorod region. 
---
---
This new incident occurred in western Bryansk region, with the fighters having crossed the border from northern Ukraine, but ended in a group of four Ukrainian militants being "eliminated", according to the FSB. There are reports the total force may have been over a dozen militants, with the surviving attackers having fled.
"The FSB of the Russian Federation and forces of the Defense Ministry… in the Bryansk region prevented an attempt to infiltrate the territory of the Russian Federation," said the FSB, and emphasized that "four saboteurs were eliminated."
The location of the attempted incursion – the Starodubsky district – is not far from the border with Belarus. Also parallel to the May incident was the reported recovery of "foreign weapons and explosive devices" which authorities say were to be used for "provocations and sabotage actions on Russian territory."
To date, the May attack has been the largest cross-border raid on Russian territory since the war began, recounted as follows:
Russia has said more than 70 attackers were killed in its operation to repel cross-border raiders who entered the country's Belgorod region from Ukraine and battled with Russian forces for an estimated 24 hours before retreating from Russian territory.

Russia said it had deployed jets and artillery on Tuesday to destroy the armed groups that penetrated the border region in the most audacious attack on Russian territory since Moscow launched its invasion of Ukraine last year.
During that May incursion, several US-supplied armored vehicles were left abandoned, which Moscow said was evidence the attackers had foreign-backing.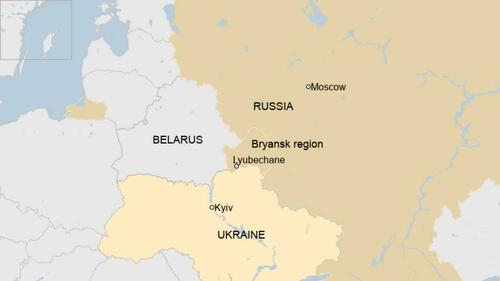 While Wednesday's incident appears nowhere near that scale, it could be a sign of more such brazen border raids to come. Recently the Kremlin ordered greatly increased border security – and before the Wagner mutiny events of June, there was talk of putting Wagner mercenaries on the border, but that plan appears to have been abandoned. 
Unverified photos have been circulating amid some conflicting casualty figures out of the Bryansk region connected to the new border incident: 
Ukrainian sabotage and reconnaissance group (DRG) attempted to infiltrate the territory of the Bryansk region again today around 7 o'clock in the morning — five Ukrainian servicemen were killed, the rest fled.

According to our information, the total composition of the DRG was… pic.twitter.com/hRggMNAgtO

— 301 Military (@301military) August 16, 2023
No one has yet taken responsibility for the new attack, but Kiev has in the past sought to push blame onto Russian opposition partisan groups seeking to topple President Putin. The FSB statement said the deceased were Ukrainians.
When trying to cross the border in the #Bryansk region, the servicemen of the border service of the #FSB, with the support of the #Moscow Region, liquidated a sabotage group of the Armed Forces of #Ukraine in the amount of 4 people. pic.twitter.com/KKTohOQHcf

— Russia Truth (autonomous pro-Kremlin infowarrior) (@Russia_Truth) August 16, 2023