'US would be history if Russia nukes Yellowstone volcano with mega-bombs' – expert
Read Time:
2 Minute, 10 Second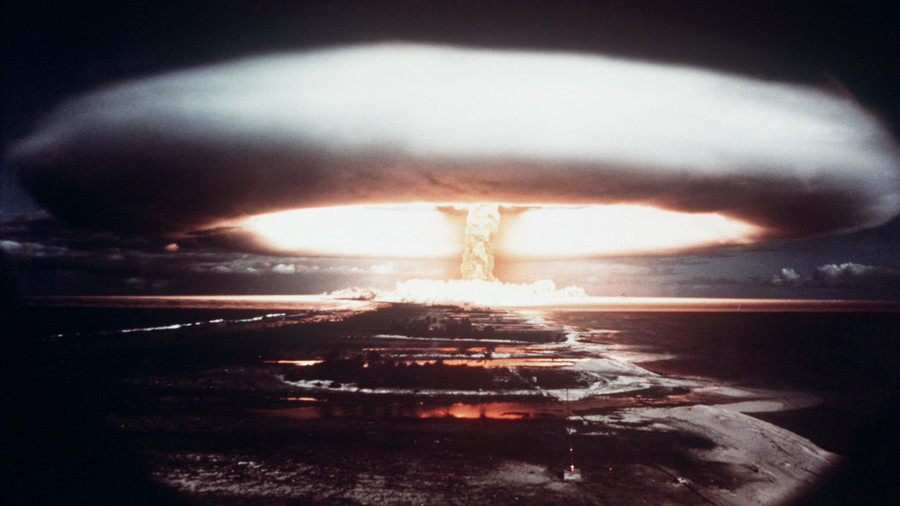 FILE PHOTO: A nuclear explosion in Mururoa atoll. © AFP /
BYPASS THE BIG TECH CENSORSHIP
Get uncensored news and updates, please subscribe to our FREE newsletter!
Russia must develop the capability to destroy the US in a single swift blow if it wants to persuade the Americans to end the nuclear arms race and return to the negotiating table, military expert Konstantin Sivkov said.
In order to curb the aggression from the West, Moscow shouldn't compete with Washington in number of nukes, Sibkov wrote in a new article. The president of the Academy of Geopolitical Problems believes that an "asymmetrical response" would work much better for Russia, as it is able to produce nuclear weapons with a yield of more than 100 megatons.
If "areas with critically dangerous geophysical conditions in the US (like the Yellowstone Supervolcano or the San Andreas Fault)" are targeted by those warheads, "such an attack guarantees the destruction of the US as a state and the entire transnational elite," he said.
The production of around 40 or 50 such mega-warheads for ICBMs or extra-long-range torpedoes would make sure that at least a few of them reach their target no matter how a nuclear conflict between the US and Russia develops, the expert said.
Such scenario "again makes a large-scale nuclear war irrational and reduces the chances of its breakout to zero," Sivakov said.
The possession of such weapons by Russia is what would finally make Washington start talking to Moscow and give up on its sanctions policy towards Russia, the expert said.
On Monday, US President Donald Trump warned Russia and China that Washington intends to build up its nuclear arsenal until "people come to their senses."
Trump reiterated his commitment to unilaterally abandon the landmark Intermediate Nuclear Forces in Europe (INF) treaty, saying that "Russia has not adhered to the agreement," neither in form or in spirit.
Moscow decried the US plans, saying that an American withdrawal from the INF would "make the world more dangerous."
The Russian presidential press-secretary, Dmitry Peskov, said that Trump's words were "a de facto declaration of intent to launch an arms race," adding that Russia would act to protect its national interests in view of statements like this.
In recent years, Moscow and Washington have repeatedly accused each other of violating the 1988 INF deal. While the US has alleged that Russia has developed missiles prohibited by the treaty, Russia insists that the American anti-missile systems deployed in Eastern Europe can actually be used to launch intermediate-range cruise missiles.
Source: https://www.rt.com/russia/442147-us-russia-nuclear-yellowstone-inf/?fbclid=IwAR3rW_sdK3-jyyAVA-7eVzp2u9brln8_ug4AtzYmD1JQJ75d9bNPE3KsJF8
Please support us by following our social media:
Contributor posts published on Russia Truth do not necessarily represent the views and opinions of Russia Truth, and are not selected, edited or screened by Russia Truth editors.
Bypass the big tech censorship
Get uncensored news and updates, please subscribe to our FREE newsletter!
---
If you would like to help support us further, please consider a donation
Any amount is greatly appreciated as it helps cover the cost of our server and web-hosting fees, and also enables to fund projects and plan for expansion.
Monthly:
(You can cancel at any time).
---