Elon Musk PURGES Execs At Twitter, BECOMES CEO, Will Reinstate Banned Conservatives, Stop Censorship
As the bell tolls for the end of the first chapter of Twitter's life as a deep state narrative-enabling machine, the firings have begun with Musk becoming 'Chief Twit'.
Just minutes after the world's richest man has reportedly closed the $44 billion deal, The NYTimes reports that, according to sources that declined to be identified, the Twitter executives who were fired include:
Parag Agrawal, Twitter's chief executive,
Ned Segal, the chief financial officer,
Sean Edgett, the general counsel, and
Vijaya Gadde, the top legal and policy executive, (or censorship czar).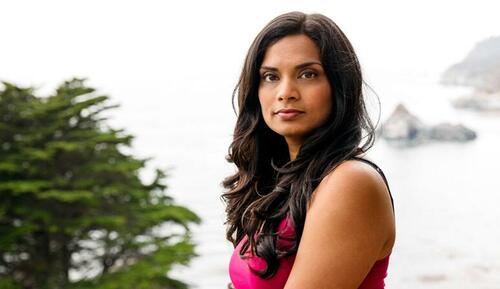 We suspect she was first on the list given this tweet from Musk earlier in the year…
April 27, 2022
As a reminder, having been with Twitter since 2011, Gadde was the key executive in charge of 'trust and safety, legal and public policy functions' – described by Politico as the company's "moral authority."
Gadde holds one of the most controversial positions at Twitter: Her teams decide how to moderate content. That's made her a target of right-wing criticism, particularly when Twitter blocked the distribution of a New York Post article about President Joe Biden's son, Hunter Biden, in 2020. She faced a renewed wave of criticism after multiple reports confirmed she was behind the decision to ban Trump from Twitter. -Politico
In other words, Gadde is likely the exec who signed off on ZeroHedge's February 2020 ban for speculating that Covid-19 may have emerged from a Wuhan Lab, and President Trump's January 2021 ban in connection with the capitol riot.
And we are not surprised at the others…
In all seriousness, imagine being such an arrogant, incompetent, entitled litttle wokester that your pissy texts provoked the richest man on earth to buy your employer just so he could fire you in his first act as owner. pic.twitter.com/NjpCOB9gbM

— Sean Davis (@seanmdav) October 28, 2022
At least one of the executives who was fired was escorted out of Twitter's office, NYTimes reports.
Please do not feel too bad for these poor, dejected executives, as Insider reports, through "change in control" provisions in employment contracts for top leadership, they will receive a certain amount of severance and an automatic acceleration of their shares, so long as Musk fires them.
The provisions are disclosed in regulatory filings.
Agrawal is set to receive the largest payout of $38.7 million, due largely to the entirety of his shares vesting upon his firing.
Segal is set to receive a $25.4 million payout for getting fired.
Gadde will leave with $12.5 million.
As we detailed earlier, over 1,100 employees have left Twitter since Musk announced his intention to buy the company back in January, with almost a third going to Google or Meta.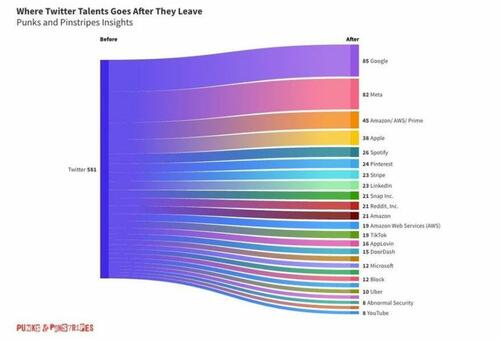 The figures come from a new analysis of LinkedIn data, with the report noting that other workers have moved to the likes of Pinterest, LinkedIn, Snap, and TikTok.
We suspect, as Elon warned, it's sinking now for some…
Will we see this tomorrow?
Source: https://www.zerohedge.com/technology/firings-begin-twitter-ceo-cfo-top-censor-escorted-out
---
The word 'FIRED' is trending on Twitter after the new owner of the company Elon Musk immediately sacked several individuals at the company previously responsible for censorship, bans and policing of free speech on the platform.
After officially acquiring Twitter, Musk immediately terminated the company's top lawyer Vijaya Gadde, head of legal policy, trust, and safety.
Gadde was reportedly directly responsible for censoring the New York Post's revelations on the Hunter Biden laptop before the 2020 election, and for banning President Trump shortly thereafter.
It was also reported by Politico earlier this year that "Gadde cried during [a] meeting as she expressed concerns about how the company could change," on hearing that Musk was launching a takeover bid.
Musk has also fired CEO Parag Agrawal, CFO Ned Segal, and the company's general counsel Sean Edgett.
Vijaya Gadde, Twitter's de facto censorship czar, has also been fired.

— Paul Joseph Watson (@PrisonPlanet) October 28, 2022
The clean sweep move, along with Musk's reported intention to overturn previous bans, prompted 'FIRED' to begin trending, as well as 'Babylon Bee', the satire site whose Twitter account was banned for a story about Biden official Rachel Levine being 'man of the year'.
Musk just tweeted he intends to "dig in more today" to correct things:
Report … day one of @elonmusk owning Twitter. I'll be doing this every day to see if anything changes.

As of now, I'm still Shadowbanned, ghostbanned, searchbanned, and Twitter removed 1200 followers today – as usual.

Nothing has changed – I'll report again tomorrow.

— Catturd ™ (@catturd2) October 27, 2022
Celebratory tweets soon began to appear:
We're so back.pic.twitter.com/VOcrfFSggV

— Paul Joseph Watson (@PrisonPlanet) October 28, 2022
Cancel culture is cancelled. ☺️

— Paul Joseph Watson (@PrisonPlanet) October 28, 2022
Elon Musk just fired the top people. Buckle Up, Motherfuckers.

— Robert J. O'Neill (@mchooyah) October 28, 2022
Outstanding. Scorched earth policy. Early days but Elon Musk is off to a solid start.🔥 pic.twitter.com/UUv8XauUrR

— Rita Panahi (@RitaPanahi) October 28, 2022
I was suspended 8 times for absolutely no reason. I have zero sympathy for Vijaya Gadde- chief of account banning and censorship. https://t.co/rkaFGDcsK5

— Libs of TikTok (@libsoftiktok) October 28, 2022
You're fired you stupid motherfucker. pic.twitter.com/cqVIxeSLrR

— 🇺🇸 AMERICA FIRST Supreme Master Apologist 🇺🇸 (@christisrisen9) October 28, 2022
Aaaaand she's been fired. https://t.co/yct1let7k8

— Chicks On The Right (@chicksonright) October 28, 2022
Elon #Musk has fired Vijaya #Gadde, head of legal policy, trust & safety, who made the decision to permanently suspend Donald #Trump. Ho Ho Ho 🥳 pic.twitter.com/szl2UrpLbp

— Carsten Jahn TEAM HEIMAT ⚫️🔴🟡 (@JahnTeam) October 28, 2022
👋🏾👋🏾👋🏾👋🏾👋🏾👋🏾 https://t.co/imTKGo5uO8

— Saagar Enjeti (@esaagar) October 28, 2022
Say it like this..

Your FIRED! pic.twitter.com/LePqK8wCJo

— Proud_Patriot_USA (@ProudPatriotUS2) October 28, 2022
October 28, 2022
It is finished. The individual was fired. https://t.co/1VQKLZ4sOw

— Eliza (@elizableu) October 28, 2022
RIP TWITTER! The good old days of wishing death on white people all day long with impunity whilst getting people banned for blinking wrong at a protected minority are going. What a dark world etc reeee etc

— Granit Saka (@MerciiiArsene) October 28, 2022
Twitter employees have happily censored, deplatformed, and taken livelihoods away from people who did absolutely nothing wrong. I'm glad they're getting fired now. They get no sympathy from me. You all deserve this. Every bit of it. You've had it coming. Now it's here.

— Matt Walsh (@MattWalshBlog) October 28, 2022
Twitter is a private company and can ban who it wants. Just make your own Twitter.

— Paul Joseph Watson (@PrisonPlanet) October 28, 2022
Let the coping commence. pic.twitter.com/Y2EMV2UX1j

— Catch Up (@CatchUpNetwork) October 28, 2022
We are so fucking back. pic.twitter.com/28Sm3q4hKJ

— Greg Price (@greg_price11) October 28, 2022
Tucker Carlson noted that "Elon Musk officially owns Twitter. He bought it not to make money but to restore free speech to America. If he actually does that, this country will change forever. Immediately after the news came out, the CEO of Twitter, Parag Agrawal, who came to this country and immediately started destroying our freedom, and the CFO, Ned Segal, are both gone."
Free speech advocates have begun to post things that they have previously been banned for:
– If you have a cock and balls, you are a man
– The vaccine doesn't work
– The election was stolen
– Climate change is a hoax
– Covid probably came from a lab
– Children's hospitals are doing sex changes on kids
– Ellen Page is a boring lesbian

🇺🇸🇺🇸🇺🇸

— Greg Price (@greg_price11) October 28, 2022
George Floyd was a convicted criminal who died of a fentanyl overdose according to police and coroner's records. He once robbed a pregnant woman, pointing a gun at her belly. He did not deserve a televised funeral with a golden casket.

— Ian Miles Cheong (@stillgray) October 28, 2022
Now that free speech has been restored to Twitter thanks to @elonmusk, I'd just like to say that I think @AdamKinzinger is a major pussy.

— Alex Bruesewitz 🇺🇸 (@alexbruesewitz) October 28, 2022
Elon Musk officially owns Twitter.

To all the liberals upset by this, all I have to say is to simply go build your own Twitter.

And Rachel Levine is a man.

😎

— Michael Seifert (@realmichaelseif) October 28, 2022
Source: https://summit.news/2022/10/28/24236/
Please support us by following our social media:
Contributor posts published on Russia Truth do not necessarily represent the views and opinions of Russia Truth, and are not selected, edited or screened by Russia Truth editors.
Bypass the big tech censorship
Get uncensored news and updates, please subscribe to our FREE newsletter!